Younicycle
From PostgreSQL wiki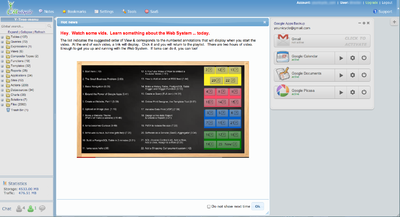 This is the current page for The Integrated Web System. Your Web Office..
Younicycle is an online Web System with 4 components; Cloud Management, Data Management, Content Management & Print and Documents Management. Younicycle uses PostgreSQL, Apache, Debian & Php as its foundation.
History
The idea was conceived in 2001 with the intent being to:
Allow real-time, visual collaboration with customers or Teams for the preparation of complex documents. 'I see what you see.'
Reduce dependence on multiple desktop or server applications, along with the associated costs of multiple licenses & dealing with incompatible platforms & files.
Reduce and consolidate redundant & infrequently used features amongst multiple desktop software applications.
Narrow the Knowledge Divide between web developers and the and Knowledge Workers, allowing and encouraging collaboration.
Reduce Software Training costs by designing a uniform GUI and common file system.
Provide a broad Suite of integrated, flexible Tools that would be affordable for SMB's, consultants or departments of larger organizations.
Recent Updates (12/6/2012)
Announced the release of a branch of the Project, Spinbackup.com, a Cloud Backup for Google
a Cloud based backup service specific for Google users, which has been built on PostgreSql and Amazon Web Services (AWS), completed beta testing and is now available for the general public. In addition, Spinbackup has received certification from TrustE for Privacy and compliance with the US-EU Safe Harbor Privacy Principles.
Spinbackup requires that users be Google users and has implemented Google ID (OAuth2.0). As a result, Spinbackup does not require entry of a user's Google password.
Spinbackup was approved on 1/9/2013 and is now listed in Google Apps Marketplace.
Main features:
1. Automated, daily backups and one click restore for Gmail, Google Drive & Docs, Picasa and Calendar. Additional, local files can be uploaded independently or as an archive.
2. Unlike most other services, the data in Spinbackup does not store in one archive. Every element (letter, Google Drive document etc.) is available to view, edit and recover independently.
3. Supports GMail labels, which allows emails to be grouped on a user criteria. If restoration to Google becomes necessary, labels will be intact.
4. Data is stored in the cloud of AWS, providing an additional layer of security and redundancy.
5. Data is available 24/7, regardless of Google's service status. In the event of Google data-loss, Spinbackup supports One-Click restore.
6. The Basic plan is free and allows up to 5 Gb of free space. Two additional, fee-based plans are available for Business users.
7. Flexible, Pay-As-You-Go payment model. Account Upgrade, Downgrade or Cancellation available at anytime. Increase cloud storage on demand, in seconds.
8. Available for iPhone, iPad and Android devices. Download at Google Play, the Apple App Store or via links at Spinbackup. Manage your backups anytime and everywhere.
9. Additional: Admin dashboard, search, local uploads and download, file sharing, manual backups, advanced stats, daily email reports, online support, ads free.


Additional

Announced and merged to the main site 11/27/2012, a Scheduler (CRON), with a simplified interface for Knowledge Workers.

Announced and merged to the main site 11/20/2012, the ability to load other Google ID enabled Software as a Service within the main, browser frame and act as a SaaS Aggregator.
Announced and merged to the main site in June 2012, Google Integration. Now Google ID enabled and can (example), directly import Google Spreadsheets in postgresql tables, field mapping, etc - along with Picasa, GMail, Calendar, Docs & Drive backup and restore.

In development (09/06/2012)
Recoding of the Template Editor, the Web System's oldest tool. The Template Editor currently supports the design of Pdfs, to include reports and variable data printing, in addition to Pdf/X. Significant enhancements are underway, allowing it to be a professional level tool, along with the possibility to decouple from the Web System and stand alone for use with any csv file, along with local objects such as images. In addition, other features such as true leading and kerning will be implemented. Scheduled for release 1st quarter 2013.


Server version (12/01/2012)
A server package is available at no charge, but available only as a Debian install. Interested parties may inquire at the site.


Past versions
Development began in 2003 with MySQL, Php 4 & ActionScript 1. The transition to PostgreSQL 7.4 was made in 2004.
Current version
Current version is named The Web System. The current version of PostgreSQL is 9.16, with plans to move to 9.2x in the 1st quarter of 2013.
Current Features
Current features are extremely diverse and much easier to view than explain.Web System (2 hours) of Instructional Video
A 30 day, free test account is provided

Resellers or Partners