Pgconfchina2015
From PostgreSQL wiki
Postgres Conference China 2015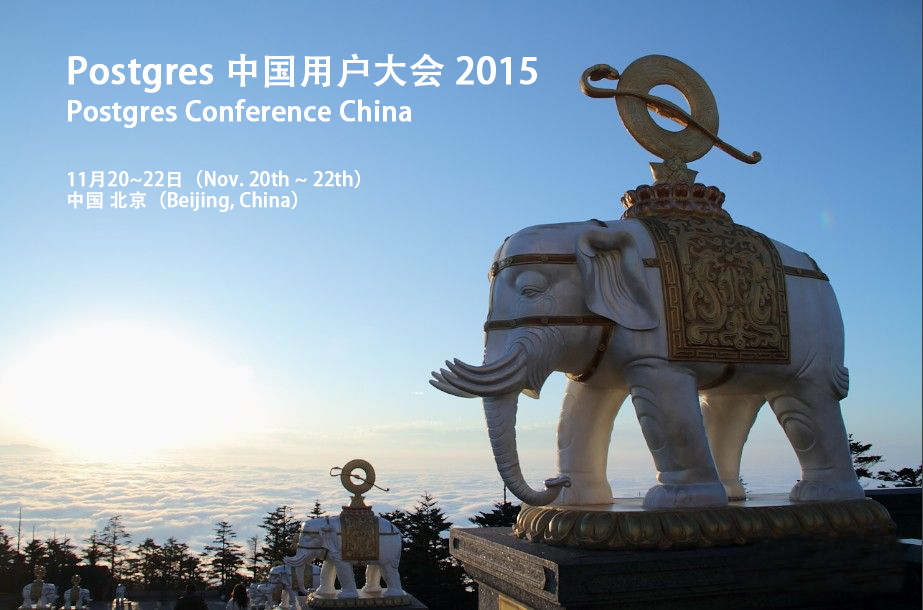 Postgres Conference China(PGConf.CN) since 2011 which organized by China Postgres User Group(CPUG) is an annual conference for PostgreSQL users in China, the conference is a hub for learning new features, sharing the know-how, and making friends about PostgreSQL.
Postgres Conference China 2015 will be held on Nov. 20th - 22th in the most populous cities Beijing, China
At the PARK PLAZA BEIJING SCIENCE PARK Hotel.
Register to the conference
中国用户报名去到即将开放,敬请关注!
Global register will be start!

如果您想马上了解更多信息,请发邮件到:scott.siu@postgres.cn
Send E-Mail to: scott.siu@postgres.cn if you want to know more detail.


Welcome to China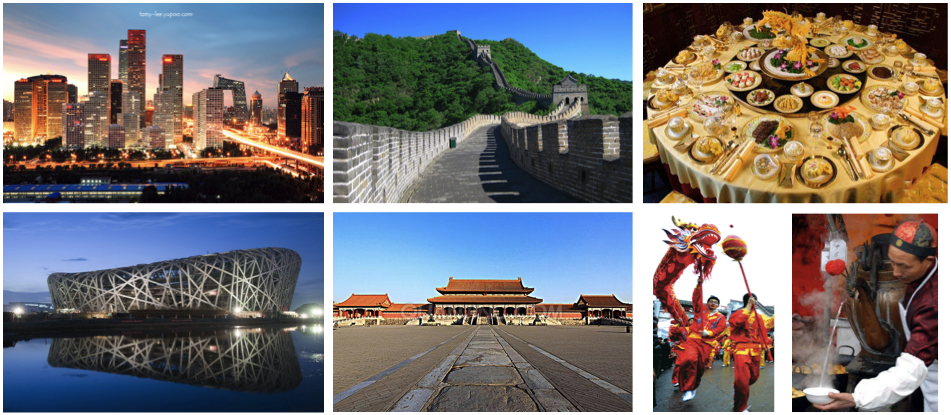 Beijing is the capital of the People's Republic of China and one of the most populous cities in the world. The city proper is the 3rd largest in the world. The metropolis, located in northern China, is governed as a direct-controlled municipality under the national government. The city's history dates back three millennia. As the last of the Four Great Ancient Capitals of China, Beijing has been the political center of the country for much of the past eight centuries. The city is renowned for its opulent palaces, temples, parks and gardens, tombs, walls and gates, and its art treasures and universities have made it a center of culture and art in China. Encyclopædia Britannica notes that "few cities in the world have served for so long as the political headquarters and cultural centre of an area as immense as China." Beijing has seven UNESCO World Heritage Sites – the Forbidden City, Temple of Heaven, Summer Palace, Ming Tombs, Zhoukoudian, Great Wall, and the Grand Canal.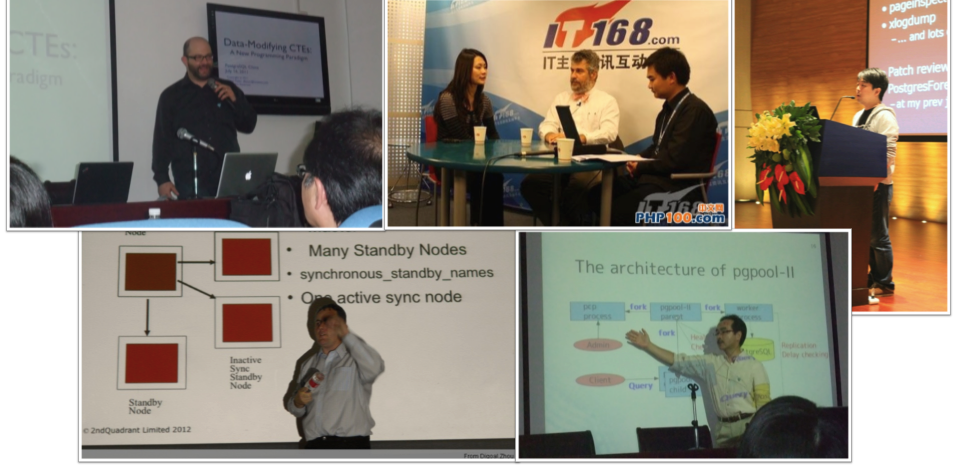 PGConf. China 2015 Schedule Day1

11月20日,上午,主会场
09:00 - 09:10 [10] 欢迎致辞Welcome PGer(萧少聪,2015年PG大象会负责人,阿里云)
09:10 - 09:20 [10] 中国PG发展报告2015(李元佳,2015年PG中国用户会主席,华为)
09:20 - 09:35 [15] 上容数据库替代Oracle的国产化之路(田军,上容数据库)
09:35 - 10:20 [40+5] 平安数据库的PG之路(汪洋,平安科技)
10:20 - 11:05 [40+5] 浙江移动 Postgres-XC 应用实践(谭峰,浙江移动,《PostgreSQL 9 Admin Cookbook》译者之一)
11:05 - 11:20 [15] 国家电网Postgres应用实践分享(张宇、国网北京许继)
11:20 - 11:40 [20] 【神秘环节,象群出没】
11:40 - 11:55 拍照留念

11月20日,下午,专场一
13:00 - 13:35 [30+5] PostgreSQL在平安的本土化(梁海安,平安科技)
13:35 - 14:10 [30+5] 上容旋极空间编码数据库引擎(李雨德,上容数据库)
14:10 - 14:55 [40+5] 一位PGer的安全修养(周正中(德哥),阿里云)
14:55 - 15:15 --- Break ---
15:15 - 15:50 [30+5] Qunar的PostgreSQL HA探索及日常运维(李海龙,Qunar去哪儿网)
15:50 - 16:25 [30+5] 新型BI架构思考及PG中的实现(黄坚,湖南红手指,《pgpool-II中文手册》译者,《PostgreSQL 9 Admin Cookbook》译者之一)
16:25 - 17:00 [30+5] PostgreSQL存储过程加密(权宗亮,共致开源)

11月20日,下午,专场二
13:00 - 13:45 [40+5] PostgreSQL在实时大数据分析中的应用(金华峰(Aida),莲子数据)
13:45 - 14:20 [30+5] PG索引自动化推荐案例分析(窦贤明(执白),阿里云)
14:20 - 14:40 --- Break ---
14:40 - 15:15 [30+5] 最新硬件上的PostgreSQL性能优化(叶涛,华为)
15:15 - 15:50 [30+5] PostgreSQL存储安全和存储性能规划(朱贤文,成都文武信息技术)
15:50 - 16:25 [30+5] 通过MADLib实现PG的In-DB分析(王伟珣,Pivotal)
16:25 - 17:00 [30+5] PostgreSQL见证每日6千万次"一见钟情"(Victor Blomqvist,探探科技)

11月21日,上午,PG高可用及容灾技术专场
09:00 - 09:45 [40+5] PostgreSQL实例恢复与热备份技术内幕(唐成,沃趣科技,《PostgreSQL修炼之道:从小工到专家》作者)
09:45 - 10:20 [30+5] 基于逻辑日志的PostgreSQL数据同步方案(曾文旌(义从),阿里云)
10:20 - 10:30 --- Break ---
10:30 - 11:05 [30+5] PostgreSQL的Window分析函数源码优化(王晓玲,华东师范大学)
11:05 - 11:20 [45+10] PostgreSQL数据库视图优化(李海翔,Oracle,《数据库查询优化器的艺术》作者)

11月21日,上午,PG扩展性技术专场
09:00 - 09:55 [45+10] PostgreSQL cluster and scaling out (Koichi Suzuki, NTT DATA)
09:55 - 10:50 [45+10] Postgres-XL (Mason Sharp)
10:50 - 11:05 --- Break ---
11:05 - 12:00 [45+10] How to manage a herd of elephants: introducing new features of pgpool-II (Tatsuo Ishii, SRAOSS INC)

11月21日,下午,PG数据库选型及迁移
13:00 - 13:35 [30+5] 数据库稳定性,选型与去IOE(赵振平,太阳塔科技,畅销书《Oracle数据库精讲与疑难解析》作者)
13:35 - 14:10 [30+5] 异构数据向Postgres的实时迁移(卢健,山东瀚高)
14:10 - 14:45 [30+5] Postgres"去O"实战(刘泉,中兴软创)

11月21日,下午,PG扩展性技术专场
13:00 - 13:55 [45+10] Distributed transaction manager for PostgreSQL (Alexander Korotkov, Oleg Bartunov, Postgres Professional, Lomonosov Moscow State University)
13:55 - 14:50 [45+10] GPGPU Accelerates PostgreSQL, Unlock the power of multi-thousands cores(Kaigai Kohei, NEC)

11月21日,下午,主会场
15:05 - 16:50 [40+5] Greenplum架构分析及开源历程(姚延栋,Pivotal)
16:50 - 16:20 [30] 高校PG人才培养的总结与思考(彭煜玮,武汉大学,《PostgreSQL 数据库内核分析》作者)
16:20 - 16:50 [30]

"PG大学(象牙塔)"项目启动
中国PG社区生态发展圆桌论坛与全球社区Leader现场交流

16:50 - 17:00 [10] Q & A,2016社区号召,大会结束
PGConf. China 2015 Schedule Day3
(Private session for PGXC/XL developer)

Nov. 22th
Forenoon

Planning...
TBD

Nov. 22th
Afternoon

Planning...
TBD
Sponsor
Speaker
Play with us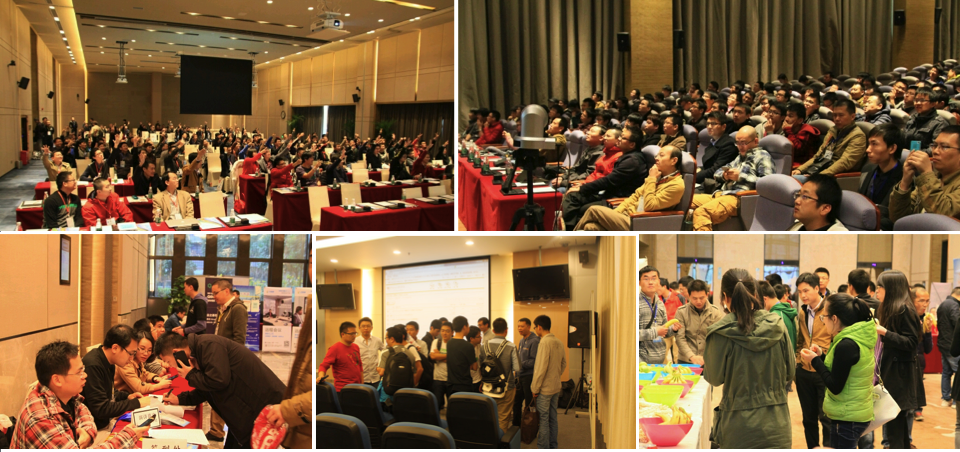 PG Conf. China 2011 - 2014