PGDay Argentina 2013
From PostgreSQL wiki
Jump to navigation
Jump to search
PGDay Argentina 2013
This is the 4th national intensive PostgreSQL one day conference (non–profit, community–run) held in Argentina. The previous editions were:
This year, the conference includes topics related to Public Administration, as the event is held in the conext of the Argentine Digital Agenda, a project that began in 2009, and is a tool aimed at leveraging the possibilities offered by the Information and Knowledge Society. It commenced out of the commitment for multiplayer and participative work by government representative, business organizations, academic entities and Civil Society Organizations with the ultimate purpose of promoting sustainable development and people's quality of life.
Details
Materials:
Final Group Picture (organizers, speakers, collaborators and some attendees):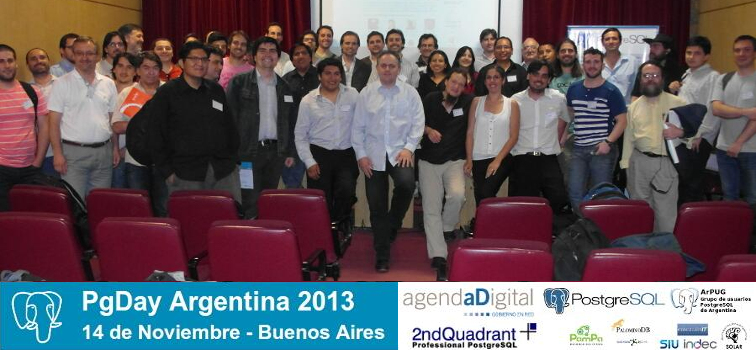 Talks
Slides for talks will be linked here!
Registration
Free attendance, web registration required: http://www.postgresql.org.ar/pgday2013/user/register (limited seats)
Schedule
Pre-confirmed international speakers includes Simon Riggs, Alvaro Herrera, Jaime Casanova, and several presenters from Argentina and South America.
Proposal web submission system: http://www.postgresql.org.ar/pgday2013/activity/proposed (deadline was September 28th, but we have space for lightning talks and work meetings)
Location
Venue: http://www.postgresql.org.ar/pgday2013/venue
The event will be held in the building of the "National Cabinet Office" Av. Roque Saenz Peña 511, in the context of the Argentina's Digital Agenda Forum.
The activities will take place in the Auditorium (1° floor) and meeting room (3° floor).
The venue is located in Buenos Aires downtown (in front of the Plaza de Mayo main square, at 4 blocks of the Obelisco).
Public transportation:
Subway (Subte): Line A– Plaza de Mayo; Line B – Florida; Line D– Catedral; Line E– Bolivar
Bus: Line 6, 9, 10, 17, 24, 26, 28, 29, 45, 50, 64, 91,105,111,126, 146,180 (R155)
Sponsors
The advertising partnership and fundraising campaign for PGDay 2013 has just started. There are several opportunities for you to join the advertising (including program guide printing and badge, lanyards, folder/bag, or t-shirt sponsorship). It is also possible to directly sponsor a speaker for the conference, a meeting room, social events or A/V recording, between other options.
Please contact us if you're interested.