Younicycle
From PostgreSQL wiki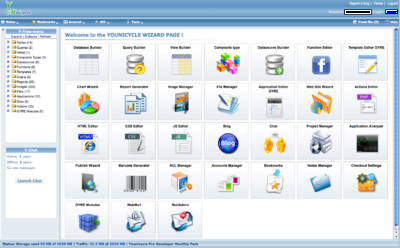 This is a Work in Progress Page for a Platform as a Service & Software Delivery System.
In its broadest sense, Younicycle is an Information System; a work system whose activities are devoted to processing (capturing, transmitting, storing, retrieving, manipulating and displaying) information. In terms of practical usage and terminology it can be used as a collaborative, Platform as a Service (Cloud IDE). Younicycle uses PostgreSQL as its foundation.
History
The idea was conceived in 2001 with the intent being to:
Allow real-time, visual collaboration with customers or Teams for the preparation of complex documents. "I see what you see." Media:old_benefit_statement_2.pdf
Reduce dependence on multiple desktop or server applications Filemaker,GoLive, DeltaGraph, Quark, Adobe LiveMotion,Adobe Illustrator, YTD (Merging variable data), Acrobat Professional, Acrobat Distiller Server,Fetch (partial list) along with the associated costs of multiple licenses & dealing with incompatible platforms & files.
Reduce and consolidate redundant & infrequently used features amongst multiple desktop software applications.
Narrow the Knowledge Divide between programmers and the long tail of the web, allowing Experts and Novices to work together.
Reduce Software Training costs by designing a uniform GUI and common file system.
Provide a broad Suite of integrated, flexible Tools that would be affordable for SMB's, consultants or departments of larger organizations.
Recent Updates (7/7/2011)
In development (7/13/2011)

-- Google Picasa -> done
-- Google spreadsheets -> Import spreadsheet, spreadsheet to Table, table to xls, new spreadsheet (on testbox)
-- GMail -> backup, read, write, search message content, restore to Google (on testbox)
-- Google Calendar (on testing server)
-- OpenID = Google Apps ID (testbox, in progress)
-- Live, user filter of query results (testbox, in progress)

Past versions
Development began in 2003 with MySQL, Php 4 & ActionScript 1. The transition to PostgreSQL 7.4 was made in 2004.
Current version
Current version is Platform as a service. The current version of PostgreSQL is the latest stable version.
Current Features
Below is a list an abbreviated list of current features, with a brief description of each.


Tool
Icon
Brief Description
Tables
The Tables Editor can be used by a Novice. Types: Serial (autoincrement), smallint, integer, bigint, numeric, double, real, varchar (string), text, date, time, timstamp (datetime), boolean, file, composite, yc_dt_link (custom type).
Length, not null, default, description, indexes, constraints, conditional triggers, save table as, truncate table, drop.
View, Insert (add), Update (edit), in screen sort, bulk import (insert, update)-> (csv, tab, pipe, user defined, all with column mapping), import as sequence, smart import, Export, export choice & order (csv, xls, xml, user defined), store table, (Table snapshot), quick-print, pagination, dependencies, assign folder.


Query Builder
The Query builder is graphical with separate Tabs for: Dataset Design, Expressions, Where conditions, Group by, Having conditions, Window clause, Order by, SQL, Test Query (internal to the App - no trip to server).


Expression editor includes Private & Public functions. Functions (setof), Tables & Views are available from the Dataset Design tab. Expression editor uses point & click for 150 'built-in' functions. Additional 'private' functions can be written with the Functions editor (plpgsql).

Views
Create View, 'view' View, xml of the view, edit View source, drop view, print view, export view (csv,xml, xls). Now using http://code.google.com/p/php-excel/ for xls export.
Composite Type
A very simple editor is available for creating a Composite type. Once created, it becomes available as a type in all new or existing Tables within the schema.
Datasources
Output of queries, views, tables that can be additionally manipulated with php. Includes CRON and ability to pull from remote sources and insert into tables. An auto-datasource can be created with a click that includes prewritten php for Select, Update, Insert, Delete. An internal Editor is provided to amend as required.
Functions
Functions editor (plppgsql). Saved Functions become available in either the Query Builder's dataset design tab or the Expressions editor tab
Template Editor
Primary WYSIWYG design tool for Reports and Pdfs, to include variable data pdfs. Summary, Group and Body parts (eight total Parts). Text editor, leading, various fonts, bezier draw, rectangles, lines, rounded rectangle, ellipse, pdf/x, images (with alt size), variable data charts, datasource selector, datafield object, merge data to text, soft preview, data formatting (helps avoid unnecessary casts), associated properties for all.
Charts
Static or based on variable data. Design editor with a variety (pies, lines, bars, radar, etc)
Reports
Created via the Template editor (pdf, svg or html). Can be scheduled (CRON) or emailed or retained for internal use.
Image Manager
Import image, import and extract archive, assign to folder, hotlinks, resize, resize and convert (png, svg, gif, jpg), export, export archive, import from Picasa, export to Picasa, download, import by reference, auto thumbnails... more
File & Google Docs
Auto mime detection, Point to and from folder, Import, Import by reference, Import & extract archive, import from Google docs, Editor (for css, js, xml), download, designate as archive and download, export to Google Docs, new doc, new spreadsheet.
Application Editor
The Applications Editor is a WYSIWYG Tool that also allows developers to design complex forms. Included are pop up Editors for Actions, mouse events, data hooks, css, images, flvs, swf, charts + more. Devs can embed php within fillers, develop their own widgets, integrate data. Applications (our def) are for the 'inner web', and accessible only from within an account.
Web Site Wizard (Overview)
The Web Site Wizard is split into 3 tabs; General, SEO & Analytics. The Web Site Wizard + the WYSIWYG Editor generates XHTML 1.0 Strict content.
General
Hotlinks to: Actions Editor (php editor), Access log, Publish site, Analyze site, Checkout settings (Payment Gateway for setup of Paypal, Google Checkout, LiqPay), Preview site, Clear cache, Reindex.


Assign web project name, add Domain name, edit crossdomain.xml policy, assign Master theme, edit Theme content (WYSIYWIG editor (more below)), Edit Theme xml, create new and delete theme
Pages: Add page, delete page, quick page search, content search, Preview page, Edit page (WYSIWYG Editor), Edit page XML, Edit page HTML, Save as Theme, page properties [name page page title, meta page description, page keywords, assign page Theme, assign onBeforeLoad Action, exclude from auto sitemap, 404 page, exclude from search, assign search priority], Publish page (Y/N), sort pages by ID, name, Theme or date.

SEO
Google verification/analytics code, File robots.txt (rules for search engines), automatic sitemap.xml or user defined sitemap.xml
Analytics
Fetch Google analytics data (pulls Google analytics data)
WYSIWYG Editor
A custom designed Editor that streamlines integration of objects and data onto a Page or Theme.


--- Tools palette: Form button, input textfield, list, combo list, radio, checkbox, text, file upload, filler, hidden, file, dhtml menu, image, charts, flash, GEAR (fillers with embedded php, similar to a 'widget'), flash video, align, arrange and distribute objects, toggle parts visibility, cut, copy, paste (local or to server), undo, redo, zoom in-out, save, save as, open other pages, execute (preview),trash, search page objects.
--- Properties palette: Each Tool and each Part (Header, Body, footer) has its own associated set of properties. Example, the Tool 'Text' has properties for align, alpha, anchor name, back style, bold, border color, border thickness, border type, CSS Class, Event (with pop-up editor), fill page,color and style, font face & size, hand cursor, header, height, italic, left & top position, Advanced positioning (with pop-up Editor), stretch, target, color, 'leading', url, underline, visible. Many of the properties have additional menus, such as assigning a datasource for a Part - or designating a data element for a textfield.
The WYSIWYG Editor for Themes and Applications is similar to the above.

Actions
Actions are Php files. There are two types each with their own Tab; User and System. System Actions are read only, 'commonly requested' features for web pages, such as Capchas, rss feed, current weather, tags, jsplayer. Each System Action can be placed on a Web page or Theme and appropriate properties become available for simple edit. Currently there are 28 System Actions. User Actions are specific to that Scehma (account) and an Editor + an API is provided. User Actions also allow for creating a schema specific Library action, which can be included other User Actions. A System Action can be 'copied', pasted into a new User Action - then tweaked as desired. User actions are often executed by a mouse event. The WYSIWYG Page/Theme Editor includes a simple Events editor.
HTML Editor

The HTML Editor is the FCK Editor with a few additional enhancements, including the ability to Import an existing web site.
Internal Blog
Extremely simple, internal Blog tool recommended only for internal communications.
Internal Chat
Popups up in a separate window and used for real time Internal communication for logged in Users. Allows saving a chat session, private messages, private alert, display image or run the Application analyzer.
QR Code
A QR Code Editor is provided, with sizing, foreground color, background color and a hotlink. Can save as png, jpg, gif or eps. QR Code image can be placed in a Template (for pdf creation) or placed on Web Pages or Themes.
SaaS Packager
The SaaS Packager allows a user with sufficient privileges to select every object (tables, queries, views, template, website, themes, files, images, Actions, etc.) into a named 'Solution', click a button and Package. This comprehensive Package can then be installed into a different schema (account). During installation, all links, references and naming will be rewritten for that schema. This makes a solution portable. Example: A SaaS Package can be developed online & installed on a local Younicycle Server installation - or vice versa.
Project Manager
Create new folders, move objects into or out of folders, sort and control location of all obejects.
Application Analyzer
The Application Analyzer allows you to select Applications, Websites, or Themes. Click a button and view a tree of all objects and dependencies, along with hotlinks to each object. In addition, you can click a button to check for broken dependencies. Helpful for debug.
Publish Wizard
The Publish Wizard gives possible methods for publishing a site; Manage domain (point at a younicycle ip), download static site (html only), upload to ftp server, html embedding (generates code), Download All Sites (DB, scripts & younicyclec-framework included). The last option is for those that have a local version (a Younicycle Server Package) of Younicycle.
ACL Manager
Role based access control: There are approximately 340 different privileges that can be assigned, in combination. A simple point and click GUI is provided. An example of one is '+ Objects->Files->Edit File Properties'. Create a Role, designate privileges, assign users to the Role. Roles can be dropped or privileges edited at any time by the Admin for the Account. Each Account (schema) must have at least one Admin. Note that the Admin for the schema is not the 'PG superuser'. A local Younicycle server package would require one (of course).
Account Manager
text to come soon
Bookmarks
text to come soon
Notes Manager
text to come soon
Checkout Settings
text to come soon
Web Mail
text to come soon
Mail Admin
text to come soon
Resellers or Partners
Platform as a Service Partners or Resellers
Reviews
Media:younicycle-review.pdf by Andrew Sullivan, formerly of CommandPrompt (September, 2008)
Documents & Files
Media:old_benefit_statement_2.pdf
Links
DefaultACL
Wikipedia Bezier Curve
Wikipedia Web Template Engine